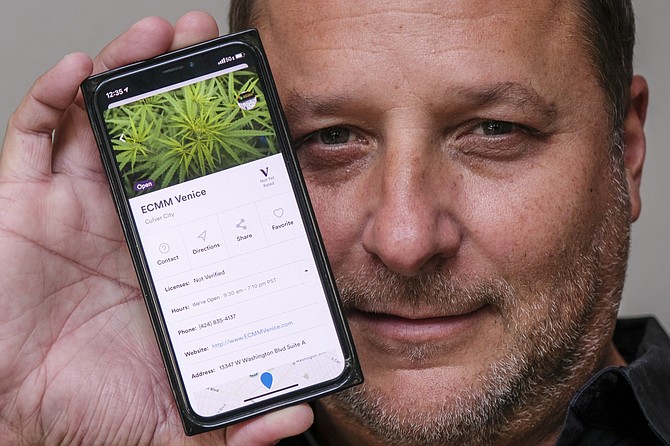 Photo by Ringo Chiu.
When California voters approved recreational cannabis use in 2016, Vana Technologies Inc. founder and Chief Executive Sheldon Owen saw that companies selling cannabis products would need technological tools to attract new customers and grow the industry.

"I saw a very big opportunity in cannabis," he said. "You can't go from a few billion to $100 billion without technology infrastructure."

Specifically, Owen said, cannabis manufacturers needed support building the type of name recognition and brand loyalty enjoyed by alcohol brands and other consumer packaged goods producers.

"Brands are going to become the household names in this space," he said. "I saw that big data, marketing automation, advertising and infrastructure were nascent in the cannabis industry and needed to be built in order to handle the scale that's going to hit this industry over time."

Owen launched Vana (originally known as Muncheez) in 2017, and the company quickly raised $7.5 million in funding to develop a marketing platform for cannabis brands.

That's no simple task, given the legal hurdles facing companies seeking to advertise products that may not be approved for sale — or even legal — in certain states.

Vana's platform addresses this using proprietary technology that verifies the age of web users and the states where they are browsing from. The company also says it verifies the licenses and state IDs of all companies listed on its platform to ensure both users and businesses know the products listed are fully compliant with local laws.

"Cannabis cannot be successfully promoted on Facebook, Google, Amazon and some of the biggest publishers in the industry because it's still a Schedule I drug," Owen said. "So, we are that alternative. We've built an engagement platform that allows brands to promote themselves."

That happens both through Vana's website and app where shoppers can compare products and locate retailers, and through partnerships the company has formed with mainstream publishers like Buzzfeed Inc., Gannett Co. Inc. and Hearst Communications Inc.
 
Though the internet's biggest advertising platforms have steered away from cannabis ads altogether, Vana's emphasis on legal compliance gives publishers confidence that they won't run afoul of local laws when giving exposure to the brands using the platform, Owen said.

This exposure is a key part of developing brand recognition as well as insight into which products are generating greatest interest from consumers.

"We give them data and insights that enable them to make better business decisions and to understand which products are selling best, which products have most interest based on clicks and which have the most engagement," Owen said.

The company does not sell cannabis products directly, but the platform connects users to licensed retailers and delivery services, which Owen said allows brands to act as direct-to-consumer businesses.

Brands pay for the marketing services provided through the platform, and Vana charges fees ranging from $200 to $1,000 per month for different levels of service. More than 300 brands and 5,000 products are listed on the platform, and Owen said customer growth has been steady.
 
He said the company is currently focused on refining the services it offers to brands and consumers but could begin to grow more quickly as more states and countries legalize cannabis and other recreational drugs.

"Our business can expand into any restricted market," he said. "And it can expand globally."
Keep reading the 2021 Business of Cannabis Special Report.
For reprint and licensing requests for this article, CLICK HERE.