My Campus: UI Business Administration Head Cele Otnes | University-illinois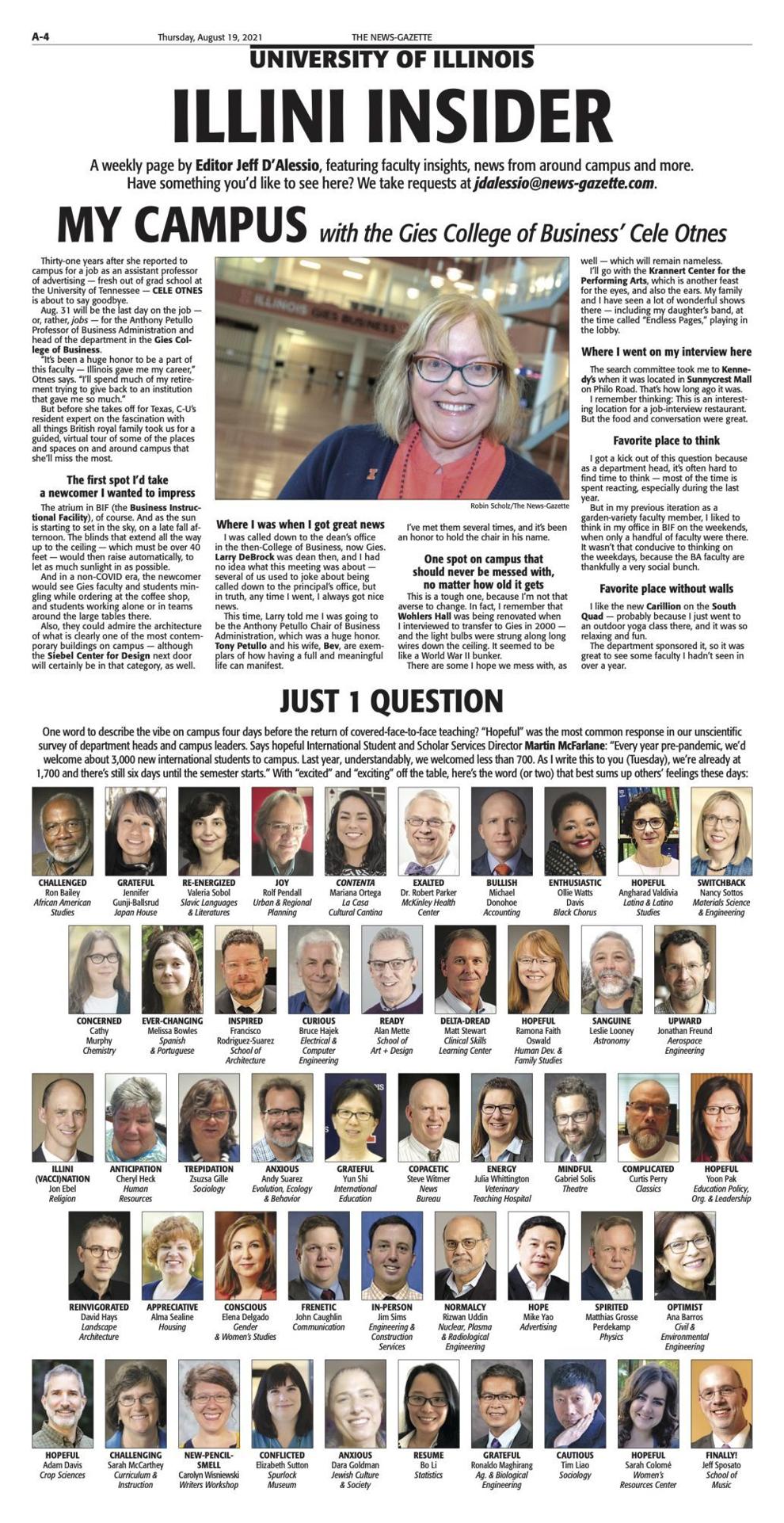 Thirty-one years after she reported to campus for a job as an assistant professor of advertising — fresh out of grad school at the University of Tennessee — CELE OTNES is about to say goodbye.
Aug. 31 will be the last day on the job — or, rather, jobs — for the Anthony Petullo Professor of Business Administration and head of the department in the Gies College of Business.
"It's been a huge honor to be a part of this faculty — Illinois gave me my career," Otnes says. "I'll spend much of my retirement trying to give back to an institution that gave me so much."
But before she takes off for Texas, C-U's resident expert on the fascination with all things British royal family took us for a guided, virtual tour of some of the places and spaces on and around campus that she'll miss the most.

The atrium in BIF (the Business Instructional Facility), of course. And as the sun is starting to set in the sky, on a late fall afternoon. The blinds that extend all the way up to the ceiling — which must be over 40 feet — would then raise automatically, to let as much sunlight in as possible.
And in a non-COVID era, the newcomer would see Gies faculty and students mingling while ordering at the coffee shop, and students working alone or in teams around the large tables there.
Also, they could admire the architecture of what is clearly one of the most contemporary buildings on campus — although the Siebel Center for Design next door will certainly be in that category, as well.
I was called down to the dean's office in the then-College of Business, now Gies. Larry DeBrock was dean then, and I had no idea what this meeting was about — several of us used to joke about being called down to the principal's office, but in truth, any time I went, I always got nice news.
This time, Larry told me I was going to be the Anthony Petullo Chair of Business Administration, which was a huge honor. Tony Petullo and his wife, Bev, are exemplars of how having a full and meaningful life can manifest.
I've met them several times, and it's been an honor to hold the chair in his name.
This is a tough one, because I'm not that averse to change. In fact, I remember that Wohlers Hall was being renovated when I interviewed to transfer to Gies in 2000 — and the light bulbs were strung along long wires down the ceiling. It seemed to be like a World War II bunker.
There are some I hope we mess with, as well — which will remain nameless.
I'll go with the Krannert Center for the Performing Arts, which is another feast for the eyes, and also the ears. My family and I have seen a lot of wonderful shows there — including my daughter's band, at the time called "Endless Pages," playing in the lobby.
The search committee took me to Kennedy's when it was located in Sunnycrest Mall on Philo Road. That's how long ago it was.
I remember thinking: This is an interesting location for a job-interview restaurant. But the food and conversation were great.
I got a kick out of this question because as a department head, it's often hard to find time to think — most of the time is spent reacting, especially during the last year.
But in my previous iteration as a garden-variety faculty member, I liked to think in my office in BIF on the weekends, when only a handful of faculty were there. It wasn't that conducive to thinking on the weekdays, because the BA faculty are thankfully a very social bunch.
I like the new Carillion on the South Quad — probably because I just went to an outdoor yoga class there, and it was so relaxing and fun.
The department sponsored it, so it was great to see some faculty I hadn't seen in over a year.