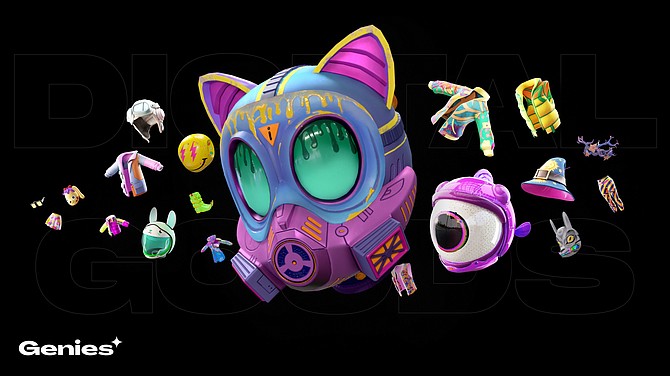 Akash Nigam, founder and chief executive of Venice-based Genies Inc., said he wasn't entirely sure what a nonfungible token was until last summer when he met with Dapper Labs Inc. Chief Executive Roham Gharegozlou.

"He was like, 'Dude, everything you're (talking about) is technically an NFT,'" Nigam said. "I was like, 'Oh, what's that?'"

It's a question many attuned to technological trends have asked in the last few months as NFTs have become one of the hottest topics in the digital landscape — and, increasingly, a focus for many Los Angeles businesses.

The term NFT can apply to nearly any unit of digital data, from a cat meme to a video file.
 
Similar to cryptocurrencies like bitcoin and ether, NFTs are traded on digital ledgers called blockchains. Unlike cryptocurrencies, however, NFTs are nonfungible, meaning they are more or less unique and cannot be easily exchanged, or spent.

Genies, for instance, manufactures apparel that exists entirely in the digital realm and can be worn by virtual avatars created by the company's customers (including pop stars Cardi B and Justin Bieber).
 
Wearable items are released in limited edition sets and can hold very different values, depending on how desirable they are to individual users.

"We're just trying to own our lane," said Nigam. "And our lane is avatar wearables for the metaverse."

The company is growing quickly. Genies announced May 3 that it had raised $65 million in a Series B funding round led by Bond Capital, giving it the financing to expand its lineup of digital offerings — from designer sunglasses to popular soccer jerseys.

Last month, Warner Music Group Corp. announced Genies would create avatars for its major artists and that the two companies would partner to develop limited edition NFT wearables tied to musicians and aimed at diehard fans.

Genies demonstrated this concept in February with the release of digital collectibles affiliated with musician Shawn Mendes, effectively bringing the concert merchandise booth to the virtual realm.

In November, Genies partnered with Dapper Labs to make many of its digital products available through Dapper's new blockchain called Flow.

Nigam said Genies, which launched in 2017, always planned to sell its digital merchandise on a blockchain in order to give products greater legitimacy as collector's items.
 
"We could just sell limited edition digital wearables," Nigam said. "We could just say 'There's only 1,000 available, believe it or not.' And that's where the big question mark comes in because people want to know that this is governed and that they can authenticate and prove that there are only 1,000."

Items traded on a blockchain carry records of all past transactions, which are nearly impossible to alter. The technology was designed to ensure secure cryptocurrency exchanges, but it's recently fostered excitement around NFTs as a means of creating the same sense of rarity in the digital world that exists in the markets for high-end art and collectibles.

$69 million sale

Indeed, works of digital art are already selling for eye-popping sums. In March, auction house Christie's sold an NFT comprising 5,000 works by digital artist Mike Winkelmann (aka Beeple) for just over $69 million in ether (most NFTs are currently traded on the Ethereum blockchain that supports the cryptocurrency).

An active market has also formed around digital collectibles ranging from basketball highlight videos to rock albums.
 
Beverly Grove-based Curio Digital Inc. launched last year as a creator of unique digital goods tied to intellectual property like the Starz series "American Gods."

Co-founder and Chief Operating Officer Rikin Mantri said the company was initially hesitant to even use the term NFT when describing its business to potential partners and investors.

"When we were signing our first content partners, we didn't talk about the notion of a nonfungible token, simply because that's an obscure word," he said.
 
In recent months, the company has embraced the term as people become more familiar with the concept — particularly in Los Angeles, where creators and rights holders are eager to find new ways to monetize intellectual property.

"It's exciting to be in the L.A. community," Mantri said. "The reason why we set up our (headquarters) here is really around getting close to the entertainment industry. Also, there's this perfect convergence between tech and media."

The digital collectibles sold by Curio are akin to the action figures and posters that fans of a TV show or comic book might display on a shelf or hang on a wall. The company is currently releasing a series of limited-edition collectibles associated with the Darkhorse Comics Inc.-published series "Concrete Park."

A collectible 'feeling'

Though you can't easily put a digital file in a display case, Mantri said the company has developed tools to allow collectors to show off their collections to friends on social media.

Curio has also worked to ensure its NFTs capture the aesthetic of a physical collector's item.

"With our NFTs, you can zoom in, zoom out, turn it around. It's touch-screen driven, so there is that feeling of actually holding onto something."

All of the "Concrete Park" collectibles released so far have sold out, and the company said they will not be rereleased.

Mantri said one reason why NFTs have generated so much excitement is that they open a wide range of possibilities for both manufacturers and buyers.

"We think about NFTs as not just a digital asset but also as the ability to unlock experiences," he said. "We're reinventing what a fan club used to be."

Creators can issue NFTs that give holders access to perks, Mantri said, with the NFT itself serving as a sort of ticket.

"As an artist, you now know who your fans are, and more importantly, you can target those fans," he said.

Given the recent surge in interest over NFTs, many established tech and entertainment industry companies in the Los Angeles area have entered the fray. Streaming businesses Cinedigm Corp. and LiveXLive Media Inc. both announced plans to develop digital collectibles in recent months, while film financier Forest Road Co. revealed last month that it plans to manufacture and sell NFTs to fund the production of future features.

Long-term investment

Cinedigm Chief Strategy Officer Erick Opeka said the Sherman Oaks-based company will not only release digital collectibles associated with its own content library but will also incorporate the ability to manufacture and sell NFTs into its digital content distribution platform, which is used by other rights holders.

Opeka said the company sees NFTs as a strategic long-term investment — not just as a way to wring extra value out of content through the sale of digital merchandise. Cinedigm considers NFTs a solution to the fundamental challenges associated with buying and selling things in a virtual space.

"Digital ownership doesn't mean true ownership," Opeka said, pointing out that when consumers buy a digital video, song or ebook, they are typically only purchasing a revokable license to use that file.

"We look at NFTs as solving for that, and we're looking for solutions to help companies get into that space," he said.

Cinedigm announced April 30 that it would release a series of NFTs comprising limited edition releases of classic films under the company's Fandor label. These digital bundles will contain high-definition copies of the films, along with posters, still images and other bonus items.
 
Opeka said selling files like this as NFTs gives consumers a clearer assurance that they are the legal owners of these items, regardless of how distribution platforms and rights agreements might shift in the future.

"With NFTs, what we're looking at is a bigger sea change in how we record and calculate ownership," he said. "To me, the collectible piece is a neat side effect, but longer term it's going to touch everybody's life."
For reprint and licensing requests for this article, CLICK HERE.