4 Things the Small Business Administration Wants Veteran Entrepreneurs to Know
The first week of November is National Veterans Small Business Week, and Small Business Administration administrator Isabella Casillas Guzman is celebrating America's veteran-owned businesses.
Part of that celebration was announcing the Community Navigator Pilot Program, an SBA-funded initiative that offers $100 million in funding to 51 organizations that serve their communities under the American Rescue Plan Act of 2021.
The Institute for Veterans and Military Families (IVMF) was chosen as the primary hub for veteran business and will support veteran and military spouses with entrepreneurship training, small business technical assistance, loan preparation, capital readiness, and corporate and federal contracting and networking.
But there's more the SBA will be doing to support veteran-owned businesses, according to Guzman. She told Military.com about some of the Small Business Administration's efforts.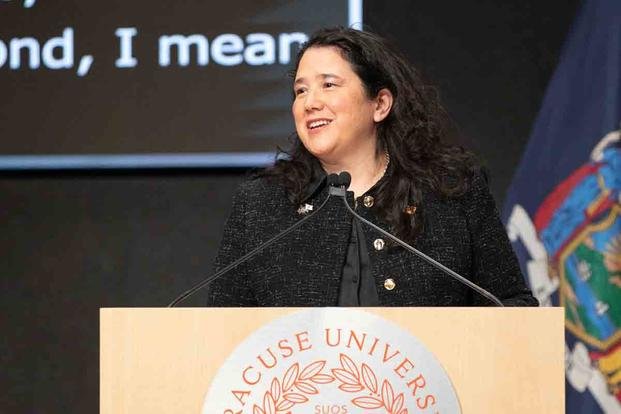 1. Veteran-owned businesses are some of the most important entrepreneurs in America.
Guzman says veterans contribute a lot to the U.S. economy, and the SBA recognizes the community's contribution and importance.
"Veterans are one in 20 of the employer-based firms," she says. "They have a massive contribution to our economy. Four million people are employed by veteran entrepreneurs, and there's well over 1.75 million of them around the country. And so they do have an outsized impact in terms of their employment and communities — oftentimes employing other veterans."
2. The SBA is working to get closer to veteran-owned businesses and their needs.
"We think what the SBA and all of government needs to do is focus on equity and making sure all our entrepreneurs can succeed because there are huge market inefficiencies," Guzman says. "If we can't allow our entrepreneurs, innovators or small businesses along main streets to reach their full potential and if we want to regain our global competitiveness, we need to invest in all of our great ideas from everywhere and anywhere. That's where we see gaps and where we think that the federal government should step up."
The SBA supports 22 Veterans Business Outreach Centers (VBOC) throughout the country to provide a more localized service to veteran-owned businesses. VBOCs provide business training, counseling and resource partner referrals to transitioning service members, veterans, National Guard and Reserve members, and military spouses who are starting businesses or trying to maintain or grow current businesses.
3. There's a new, fully funded program to support veteran-owned businesses.
The Community Navigator Pilot Program works through a "hub and spoke" model, which means SBA funding will go to a trusted SBA partner that will deploy trusted advocates to support small businesses hit hard by the pandemic throughout their community.
Veteran-owned businesses will be able to apply through VBOCs like the SBA's Tier-1 partner, the IVMF at Syracuse University, which received $5 million in funding to continue its support for those businesses.
4. New legislation would allow direct SBA loans to veteran-owned businesses.
"The biggest problem facing veteran-owned businesses is getting the resources to help people face challenges," Guzman says. "Within the president's Build Back Better framework, the SBA would be positioned to do direct lending to small businesses and be aggressive about making sure we can fund small businesses who need that additional support to succeed."
For almost every year since 2016, the IVMF's own research has found that access to capital is the biggest barrier to entry for veteran entrepreneurs. The SBA not only connects veterans to resource partners, it's been disbursing grants and loans for 67 years. Currently, the SBA gives direct loans through disaster relief, but legislation in Congress could expand that lending.
The bipartisan infrastructure bill, known as the Build Back Better Act, would allot $5 billion to SBA programs, allowing the administration to make direct loans to veteran-owned businesses for up to $150,000.
— Blake Stilwell can be reached at [email protected]. He can also be found on Twitter @blakestilwell or on Facebook.
Want to Know More About Veteran Jobs?
Be sure to get the latest news about post-military careers as well as critical info about veteran jobs and all the benefits of service. Subscribe to Military.com and receive customized updates delivered straight to your inbox.
Show Full Article
© Copyright 2021 Military.com. All rights reserved. This material may not be published, broadcast, rewritten or redistributed.